SRO Downhole Gauges
Surface readout or SRO is a generic term for sending downhole data to the surface via electric line. The biggest difference between Calscan Systems and others is the protection needed for the TEC as it leaves the wellhead.
Intrinsically Safe Connection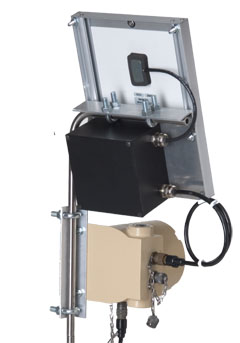 Corvus Div1 Solar Battery mounted on a Hawk
In a short term testing situation it is usually necessary for the cable to go through a lubricator. This area is a Div 1 Class 1 Hazardous location, so Calscan has made the SRO output on the Hawk CSA/UL certified intrinsic safe. If the cable parts, there is not enough energy to cause a spark and therefore a explosion. There is no need to run explosion proof cable or conduit. This is ideal for testing, as the operator does not have to change their procedures at all to ensure safety. The explosion proof solution is harder to install and not very convenient for drop spool applications.
Drop Spool Power Supply
The Corvus is a Class 1 Div 1 Solar Battery that has at least a 10 day reserve with our Wolverine quartz tool at a 10 second sample rate and with the Badger/Mole at 1 second sample rate. With these rates it can keep the battery fully charged at -40°C with only one hour of sunlight a day. The Corvus is so compact it can be mounted directly on the wellhead, perfect for temporary well tests. On a permanent install since its all in one all the operator has to do is plug it in. There is very little install expense.
Bubble Tube
Bubble Tube System Installed for
Imperial Oil Cold Lake Cyclic Solvent Pilot Project
A Bubble Tube system allows measurement of downhole pressure while having complete isolation from the well fluid media by measuring the flowing pressure on surface of a gas bubbling at the bottom of a capillary tube in a well. The measurement instrument can be located potentially thousands of feet from the bottom of a well. This isolation makes the bubbler suitable for wells with corrosive, acidic, and/or hazardous liquids at very hot temperatures. It is intrinsically immune to surface foam, pH, conductivity, temperature, turbulence, viscosity, and solids content.
Since the pressure sensor is not in direct contact with the liquid, it will have a much longer life, and greater calibration stability. Calscan can custom build a Bubble tube system that will fit your needs depending on your requirements such as accuracy, power, and gas requirements.