Products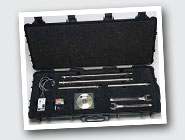 Wolverine Quartz Tool
Calscan specializes in flow, pressure and temperature loggers either downhole, or on the surface for the oil/gas industry.
All of our tools go through rigorous testing and continuous improvement. As a result, our tools have shown to be extremely reliable in the harsh conditions of Alberta's oilfield, from extreme temperatures (-40°C to 160°C), H2S, carbon dioxide, and saltwater.
These conditions provide an excellent testing ground to prove the reliability of our gauges for use anywhere in the world. Calscan Solutions. sells globally, and our tools are used in many of the major oil fields of the world: Saudi Arabia, Texas, Gulf of Mexico, Malaysia, Australia, Venezuela, China, and Alberta.
We pride ourselves in the high level of quality and reliability we can bring to our customers. We are continually testing our products in the lab and in the field. Calscan not only makes great tools - we strive to make them better.