Products - Hawk9000 Surface Gauge
The Hawk9000 is a precision low power data surface data logger with a suite of intergrated sensors used to meaure and log pressure, temperature and flow in hazardous locations typically seen on oil and gas wells.
See our brochure below for more details on Hawk 9000 measurement solutions and features
The Hawk9000 Field Testing Advantages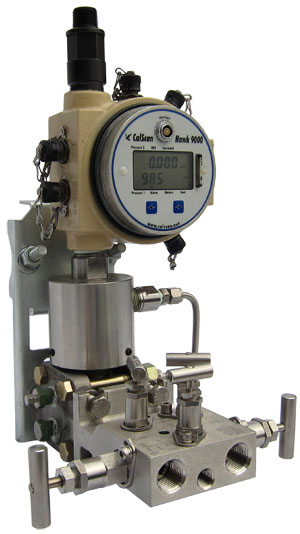 Getting accurate test data from oil and gas wells is vital for reservoir engineers and field supervisors to optimize production and extract the full potential of the well in the long term. To get this information oil field service companies are often forced to use equipment designed for use in industrial chemical plants. Unfortunately these tools, such as any standard flow computers, are almost completely unsuited for use on a wellhead.
Why?
Extreme temperature changes from the heat of the middle east deserts to the freezing cold of Canadian winters affect the pressure stability.

Accuracy, limited data storage and power requirements make standard industrial data loggers inadequate for most jobs.

Test requirements change so a wide selection of sensors need to be quickly hooked up and used.

Portability is required as equipment is installed on site one day and removed the next.

Operational simplicity is required as most well testers are not instrumentation technicians and good man power is hard to find.

Local real-time monitoring is often needed to monitor all the sensors to make sure the test is running correctly.

Remote real-time connection is often required to optimize manpower or for monitoring the test by the reservoir engineers who typically aren't on site.

After the test is done data must be analyzed and exported for use in reservoir engineering software.
To solve these issues CalScan has designed the Hawk9000 from the ground up to be the only real surface measurement solution for all your oil and gas well testing needs.
For further infomration please email our sales department or call us.