Accessories - Corvus Div1 Solar Radio
The Corvus 5 watt solar powered intrinsically safe Division 1 power supply for the Hawk or other compatible device. This allows it to be mounted directly on the wellhead without having to worry about hazourdous location safety issues. It is typically used to power our surface readout system or a spread spectrum radio with a 10km line of sight range.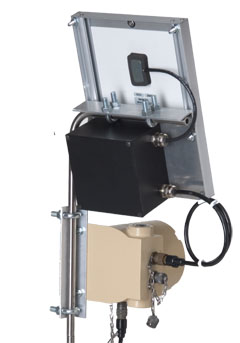 Corvus Div1 Solar Battery mounted on a Hawk
Using the best cold rated batteries on the market it gives a 10 day reserve at -40°C with only one hour of sunlight a day for most applications. See or Corvus Installation Manual for more details.